Main content starts here, tab to start navigating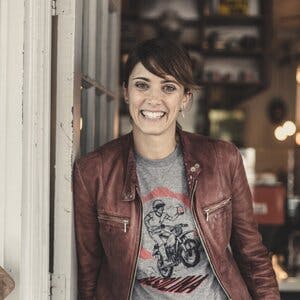 Sandra Cordero
What do you get when you mix a dash of Spanish fire, a generous pinch of Dutch practicality, with a heavy serving of wit? Well, you get the recipe of success for Sandra Cordero.
A first-generation immigrant by way of Amsterdam and Galicia, Spain, Sandra Cordero endeavored to create a place that combined her passion for local farmers and their produce, with an unbridled enthusiasm for the food of her homeland, done exceptionally well. In other words, she wanted a place that reflected her point of view. So, in 2015 she founded Gasolina Cafe, a Spanish influenced restaurant on Ventura Blvd in Woodland Hills, CA.
Gasolina Cafe has not only been a place to eat incredible food but it's also become the heart of the community.
It has been the birthplace of great loves, friendships, and many family celebrations. Since the pandemic has started Sandra and team Gasolina also contributed to the community by cooking over 30.000 meals for local healthcare workers, seniors, and under-served communities.
Though, if you asked Sandra, her greatest pleasure happens after business hours when she gets her arms around her own little one, a daughter rapidly becoming a tween, and the family's two mutts, at the end of every hard-fought day