Main content starts here, tab to start navigating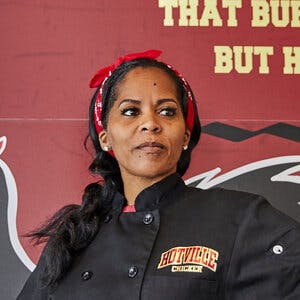 Kimberly Prince
Kim Prince is a third-generation restaurateur with a knack for frying "hot" chicken coursing through her veins; at the age of eight, she recalls being the "Pickle Bucket Girl" at her family's restaurant in Nashville, TN. The Prince family is recognized and awarded as the creators of Nashville Hot Chicken. As Kim tells it, "My great-great-uncle was a very handsome lady's man who stayed out a bit too late one night. His mistress sought revenge by dousing cayenne pepper all over his fried chicken. He enjoyed it enough to perfect the recipe and started the BBQ Hot Chicken Shack with his brothers in 1936. In the 1980s, my Aunt Andre Prince-Jeffries changed the name of the business to honor our last name: Prince's Hot Chicken Shack."
Kim studied Public Administration at Fresno State University where her professional career in Human Resources began in 1992. From 1999-2019 she worked for various TV networks like ABC TV, The WB, CMT/MTV, and NBCUniversal. TV Production and Development afforded her opportunities to travel around the world and work with many A-List celebrities, professional athletes, and high-profile influencers. In 2016, after returning to LA from Nashville, she started a pop-up restaurant: Holtville Chicken. In 2019, opened a brick 'n mortar in the Baldwin Hills/Crenshaw district with partner Greg Dulan (owner of Dulan's Soul Food). Hotville Chicken has been recognized by Los Angeles Magazine's Best of 2020 and Best New Restaurant. Hotville Chicken has also been featured in: The NY Times, Infatuation LA, Zagat, and the LA Times.
Kim is a founding board member of RE:Her.