Main content starts here, tab to start navigating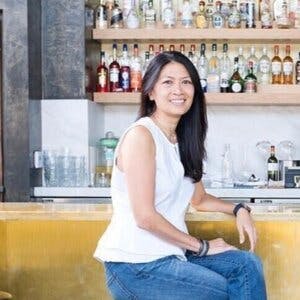 Dina Samson
Dina Samson adeptly assumed the role of "unexpected restaurateur" when she opened her first restaurant, Sotto, alongside husband/chef Steve Samson, in 2011. Since then, she has become the visionary and operational glue for their two current concepts, Rossoblu and Superfine Pizza.
Before joining the restaurant industry, Dina developed her business acumen in the financial world as an investment banker in San Francisco and New York. She also served in chief of staff roles to several financial CEOs, as well as celebrity entrepreneurs P. Diddy and MTV's Rob Dyrdek. She originally moved to Los Angeles to produce video games for Brash Entertainment/Wall Street Games.
When her husband, Steve, sought her expertise in financing his first restaurant, she not only helped secure investors, but she also became integral to the nascent restaurant's daily operation as its opening general manager. Together, they have expanded their hospitality brand with Rossoblu, their acclaimed ode to Bologna, and Superfine Pizza, which melds the delicious traits from both Neapolitan and New York pizza styles.
True to their hospitality group's core values, Dina has co-founded the Independent Hospitality Coalition and RE:Her. Both organizations focus on fostering and uplifting the Los Angeles restaurant community. She has also co-founded the charitable organizations Rossoblu Restaurant Relief Fund, Feeling Superfine Program, and FeedLoveLA, which all focus on addressing food insecurity issues in her community. Samson is both a James Beard Foundation Women's Entrepreneurial Leadership and C200 WinLab fellow. She also miraculously finds time to raise her young twins.