Sarah And Boo Simms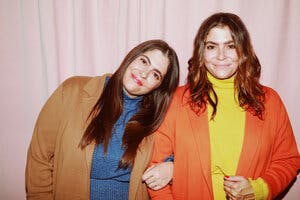 Twin sisters Sarah and Boo Simms are the culinary and creative duo behind Lady & Larder — the Los Angeles-based cheese shop accredited with starting a global grazing board movement in 2016. The two have deep roots in the California hospitality industry and both share extensive backgrounds in the restaurant and food world — Sarah on the culinary and operations side and Boo in design and marketing. Raised under the notion that the dinner table was (and still is) a sacred place, Sarah and Boo maintain that the only thing bigger than their love of food is sharing it with others.
Lady & Larder was built around their profound respect for American-made seasonal ingredients and an immense appreciation for the role beautiful food plays in creating moments of connection and joy. Since their start, Lady & Larder has become the go-to source for those looking to entertain in Southern California; the shop specializes in custom edible displays, created with seasonal crudités, fruit, cheese and charcuterie. For those looking for something special out-of-state, Lady & Larder also offers curated Cheese Board and Charcuterie Kits, custom Online Cheese Board Classes and an array of seasonal treats and gifts that ship nationwide.
Most recently Lady & Lady was featured as one of Oprah's Favorite things in 2019, was featured in the Los Angeles Times, New York Times, Forbes, Los Angeles Magazine, O Magazine, and Martha Stewart Weddings.