Salima Saunders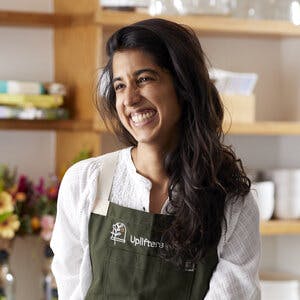 My passion for food began when I was a child in my toy kitchen. I would cook elaborate meals for my family and serve each dish with care. Both my grandmothers were incredible cooks who engaged us as kids in the kitchen, from rolling rotlis on the floor to lifting us up to taste what was bubbling away on the stovetop. For me, food really was a way of showing my love.
I moved out to LA a few years ago to go to USC for business school and worked in hospitality, where my love for service and food only deepened. While I was working, I started a vegetarian catering service and loved creating healthier takes on my favorite dishes. I was so excited to work with the produce at local farmer's markets and see how I could support and nourish my clients.
I worked briefly as a baker/prep cook at Amara Kitchen and then took on a role at Bar Nine in operations before getting the opportunity to open my own cafe, Uplifters Kitchen, in the midst of the pandemic, an opportunity I didn't think would be possible for many years!