Phuong Hoang & An Tran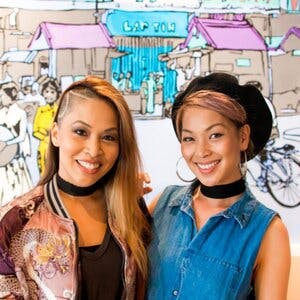 Phuong Hoang (pictured right)
Growing up in Torrance, we rarely ate out — it was expensive. My parents and my brother came to the U.S. from Vietnam in 1975 (my sister and I were born here), so we were fortunate to have home-cooked Vietnamese meals every night. Once we started being able to spend money on food, we discovered that there weren't a lot of Vietnamese options we liked in L.A. The flavor was there, but not so much the front of the house and the quality.
Most of them were mom-and-pop shops opened by our parents' generation — refugees and immigrants who opened liquor stores, restaurants, whatever it took to put food on the table. They made enough money to raise a family and wanted all of us to be doctors. Now we're older and we can think for ourselves. My husband actually graduated with business degree in marketing and working in advertising for quite a while. I was in the fashion industry. We just opened Pho Saigon Pearl last year (2016) but it's been in the back of our minds for over half a decade. We decided, "Hey, we need to do what we think this area needs and where our hearts are." My oldest brother, husband, sister, and I came together, and with the four of us, we felt like we had a solid foundation for our dream.

Our parents, grandparents and aunts. Both our moms always cooked us what their own mothers taught them — recipes like pork chops and pho. My family is from Northern Vietnam, where pho originated. (This was before the war before the Communists kicked us down south). My husband took what he learned from his mom and grandmother and enhanced some of the flavors and ingredients. My family sometimes used MSG in our pho because we couldn't afford oxtail and bone marrow all the time. But my husband said, "Hey why don't we make stuff how it's supposed to be, with better ingredients." Our broth is made with pure bone broth and oxtail, which gives it the natural sweet flavoring.