Niki Nakayama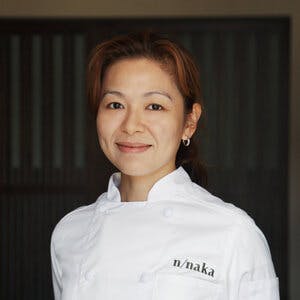 Born and raised in Los Angeles, Nakayama began her career at the popular Takao restaurant in Brentwood, following her graduation from culinary school in nearby Pasadena. After embarking on a three-year working tour of Japan immersing herself in the deeply nuanced methods and flavors of both traditional and contemporary Japanese cuisine, including the art of traditional kaiseki, Nakayama returned to her hometown to open Azami Sushi Café on Melrose Avenue.
After eight years—during which she became known for her omakase menu—the chef branched out to host elaborate chef's table dinners that resulted in Nakayama's modernized kaiseki dining experience, which has become the signature cuisine of n/naka.
Today, n/naka serves as a global destination for modern kaiseki with a California twist, at which Nakayama serves world-class, artfully curated, and exquisite dishes in a progression designed to reflect the mood of season, time, and place. For Nakayama, the kaiseki philosophy allows her to show a deep appreciation for the beauty of nature, with the purpose of, "highlighting natural flavors, presenting them in their purest way without over-complication, and serving them how they were meant to be in their peak season." Nakayama's devotion to sustainability also plays out at n/naka, with currently 70% of its ingredients sourced locally—a rarity in Japanese fine dining.
Outside of the restaurant, the chef can be found at her Los Angeles home spending time with her wife and their three dogs.