Monica May & Kristen Trattner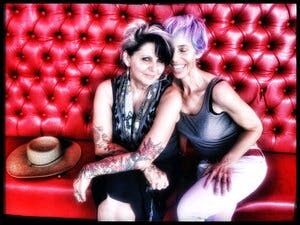 In 2008, at the height of the last recession, Chef Monica May and Owner Kristen Trattner opened Nickel Diner. Located on one of the most notorious blocks of Skid Row, the restored 1940s diner has become a DTLA icon and helped transform a neighborhood. Featuring handcrafted food, homemade jams and salsas, whimsical pastries, and the Maple Bacon Donut, the Nickel Diner has elevated the concept of "diner food."

The Nickel Diner, Monica likes to say, serves "Haute Grandma."

Since its opening, the Nickel has been featured in Jonathan Gold's 101 Best Restaurants, LA Times, Los Angeles Magazine's Best New Restaurants, Vogue and Bon Appetit magazines as well as Food Network's "Diners, Drive-ins and Dives" and Cooking Channel's "Unique Eats."

As two women running a restaurant on Skid Row, the challenges they've faced have allowed them to develop unique survival skills. It was important to understand this distinctive neighborhood and focus on inclusion as opposed to exclusion. In feeding a community that's as diverse and eclectic as Downtown Los Angeles, Nickel's philosophy is this: Whether you're high brow or low brow, a satiated belly speaks a universal truth. After 13 years in operation, the Nickel Diner's success is a testament to that philosophy.

Since the COVID-19 pandemic, many restaurants have been forced to reconfigure and re-think their business model. Much like the initial process in developing the Nickel, Monica and Kris looked at their neighborhood and saw what was needed. And so the Nickel Diner Soup Kitchen was born, subsidized with donations that allowed them to feed folks in need while keeping their employees and restaurant doors open. The recent COVID surge has made the Downtown community extremely vulnerable, and the women are committed in their determination that everyone gets fed.