Melissa Perello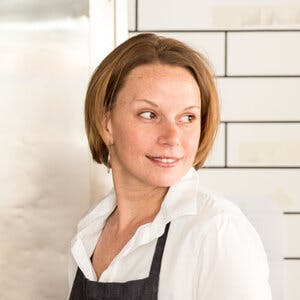 Chef Melissa Perello has been an avid cook since childhood. Spending summers in the kitchen in northern Texas with her grandmother, Frances, the young chef was influenced by culinary titans like Julia Child and Nathalie Dupree.
After attending the Culinary Institute of America in Hyde Park, Perello began her career in San Francisco at Aqua, with Michael Mina, and then Charles Nob Hill, alongside chef Ron Siegel. As executive chef of Charles Nob Hill, she garnered critical acclaim from local and national outlets, including three consecutive James Beard Foundation Award Rising Star Chef nominations and a Food & Wine's Best New Chefs award. In 2005, Perello took the helm at the highly respected Fifth Floor restaurant in downtown San Francisco.
After years in the kitchen and a whirlwind of early successes, Perello took a hiatus from the restaurant industry to travel and refocus on food with the ultimate goal of opening a restaurant and making her own mark on San Francisco. In 2009, Frances was born. Named for the grandmother who had nurtured her young talent, Frances quickly gained critical praise and glowing reviews, both locally and nationally, from such institutions as the James Beard Foundation, Bon Appétit, and Esquire magazines. Frances also earned a Michelin star.
In 2015, Perello's second San Francisco restaurant, Octavia, opened, quickly earning critical acclaim and a Michelin star in its first year, which it still holds today. With the same culinary ethos that has made her restaurant's beloved staples in the San Francisco dining scene, Perello expanded to Los Angeles in 2019 with M. Georgina. Named after her other grandmother, M. Georgina follows in the style of Frances and Octavia, with an approachable-yet-elevated use of seasonal, responsibly sourced ingredients complimented by warm, gracious service.