Liz Roth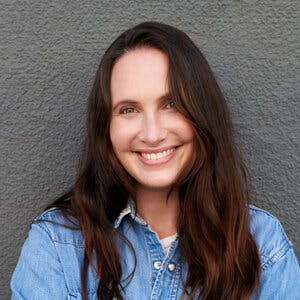 Liz Roth is the founder of Little House Confections, the LA-based bakery known for its beloved Bomb Ass Olive Oil Cakes. At Little House Confections, Liz marries her baking background with her passion for philanthropy, giving way to a business that not only delivers daily sweetness to customers, but supports the local community as well.
Born and raised in Beverly Hills, Liz constantly found herself drawn to the kitchen where she'd bake boxed cakes alongside her mother as a way to relax after school. Liz eventually left the store-bought mixes behind and started to develop her own recipes, soon her signature olive oil cake was born. Looking to pursue baking full-time, Liz enrolled at Le Cordon Bleu in the early 2000s. A few months in, Liz underwent spinal surgery, leaving her unable to complete her studies. With her professional baking aspirations a distant dream, Liz decided to focus on her other passion, interior design. She worked for award-winning designer Cliff Fong before opening Elizabeth Roth Home, a full-service design firm and shop.
Liz continued baking in her free time, gifting her olive oil cakes to friends + family around the city. When COVID-19 hit, Liz felt compelled to draw upon her lifelong passion as a way to give back to the community. She debuted Little House Confections in April 2020 as a charitable campaign to raise money and awareness for Covenant House of California. With an immediate outpouring of support for her olive oil cakes and philanthropic mission, Little House Confections quickly blossomed into a fully functioning bakery. The cornerstone of LHC still remains charitable giving with a portion of profits donated each month to a small local charity in an effort to give back.