Lien Ta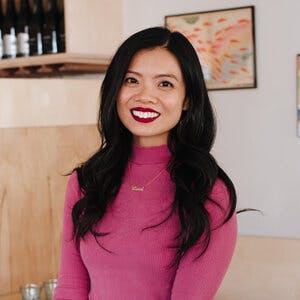 Lien Ta is the co-owner of All Day Baby, a feel-good restaurant with the soul of a diner. Located in the Silver Lake neighborhood of Los Angeles, it was open for just three and a half months before the mandated closure on March 16, 2020, in response to the novel coronavirus. Today, with over 60 employees furloughed, it is open for takeout and delivery with a small team and limited hours.
Her first restaurant was a fun little restaurant in Koreatown called Here's Looking At You, also co-owned by Chef Jonathan Whitener. A "Restaurant of the Year" by Food & Wine Magazine in 2017, HLAY was revered as a toast to the fantastically diverse landscape of Southern California. The impact of COVID-19 forced its indefinite closure on July 12, 2020, on the eve of the restaurant's fourth anniversary.
As a small business owner affected by the pandemic, Lien was recently featured, alongside LA Mayor Eric Garcetti, in a video aired at the Democratic National Convention. She is the subject of "Becoming a Restaurateur," a Simon & Schuster publication by author Patric Kuh. She was a fellowship recipient of the James Beard Foundation's inaugural class of the Women's Entrepreneurial Leadership Program in 2017.
She is a founding member & committee lead of RE:Her, a charitable organization for women-owned restaurants in Los Angeles. It launched its inaugural food festival, 10 Days RE:Her, on Jan. 21, 2021.
She was previously a Manager & Culinary Liaison at Animal & Son of Gun restaurants. Before working in hospitality, she was food, fashion & lifestyle writer, and entertainment editor for eight years.