Heather Tierney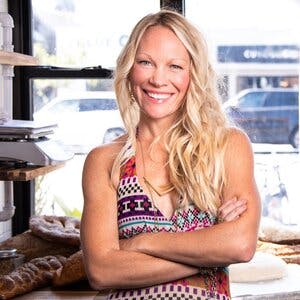 The Butcher's Daughter was envisioned and created by founder Heather Tierney. Heather has always had a passion for healthy food and juice and especially loves wandering through local farmer's markets. She got inspired to start juicing after coming up with ideas for exotic cocktails for Apothéke, her cocktail bar in New York's Chinatown.

Heather is first and foremost a designer - and one that happens to love designing restaurants and bars. She leads the design for all of The Butcher's Daughter restaurants, infusing what she calls "a blend of feminine and masculine energy." Her creative agency, Wanderlust designs both residential and hospitality projects, as well as branding and identity. Other projects include The Waterfront Venice; a 10,000 square-foot beach bar and restaurant on the Venice Boardwalk; and Roosterfish; an iconic cocktail bar on Abbot Kinney Boulevard.
Heather has been awarded numerous accolades for design excellence, including The Restaurant and Bar Design Awards; and the interiors have been featured in several design books, including Surf Shack, Dark Nostagia, Rough Luxe Design and Secret Society serves food that promotes personal, public & planetary well-being. We strive to source and prepare food, as well as cultivate community, in thoughtful ways that meet this mission. We place equal value on where and who our food comes from and its nutritional integrity, as we do on the way it tastes.