Heather Sperling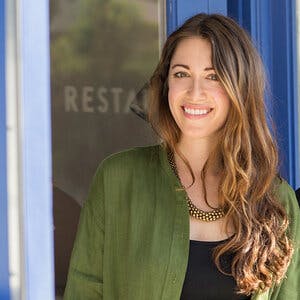 Heather Sperling is the co-owner of Botanica, a restaurant and market in Silver Lake, Los Angeles. She opened Botanica in 2017, alongside partner Emily Fiffer, as a destination for nourishing hospitality — a culinary and business philosophy that permeates every aspect of Botanica's existence, from its obsessively farmers market-centric menu to its dedication to respect, equality, inclusivity and healthfulness as core operating tenets.
Botanica has garnered numerous accolades and international recognition for its vibrant, wholesome cooking and ambitious natural wine program. In addition to its brick-and-mortar space, Botanica has a digital recipes publication (BotanicaMag.com) and a thriving online retail program.
Prior to diving into the restaurant world, Heather spent a decade as a restaurant-focused editor for culinary publications — and on the side, served as a writer for dozens of others and a consultant for chefs, markets and culinary brands. Her love for vegetable-centric cookery is lifelong, in part informed by her Lebanese heritage and a stint living in India as a child. When she's not at Botanica, she's at home reading to her daughter, digging in the dirt, or undertaking unreasonably ambitious culinary/entertaining projects with her husband.
Heather is a founding board member of RE:Her, and is proud to lead an all-female management team at Botanica.