Angie Kim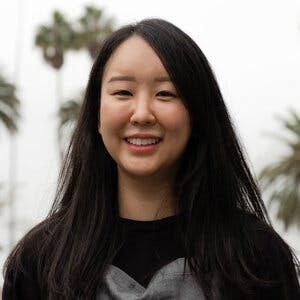 INTERSTELLAR: The space occurring between two stars
These two stars represent our two cultures, American and Korean. Who we identify as, resides in that space in between. We embrace the idea of America as a cultural melting pot and aim to create a comfortable space with food, wine, and coffee that is free from being bound to one type of cuisine.
My name is Angie Kim and I grew up in Seattle and moved to Los Angeles back in 2008. I always had great interest in cooking and just food in general ever since I was very young. My grandmother would always cook for me growing up, and I always remember the smile it brought to everyone's face and how it made me feel. She used fresh ingredients that she grew from her garden which gave me a lot of insight into how important it is to use fresh quality ingredients.
Many of my recipes came from childhood memories, previous work experience and also from my travels. I also learned about a lot of new ingredients through friends and family who grew up in different places all over the world. The food from Interstellar is not only Korean American, but is globally limitless. I hope to continue my adventure to find new parings with different ingredients to create something people will also enjoy.